This week I am featuring the Simply Scored tool from Stampin Up!
Simply Scored™ Scoring Tool
Easy and precise scoring. Metal-tipped, ergonomic stylus. Place markers
to mark scoring lines. Storage compartment for stylus and markers.
•
Scores paper to 30.5 x 30.5 cm (12" x 12"); grooves every 1/8" (3.2 mm)
•
3 imperial rulers: two along top: one standard, one zero centre; one
standard along left side
•
For metric scoring, use the Simply Scored Metric Scoring Plate
•
Includes base, 3 Place Markers, 1 Stylus £25.95 122334
Have you seen the amazing NEW Simply Scored scoreboard from Stampin Up.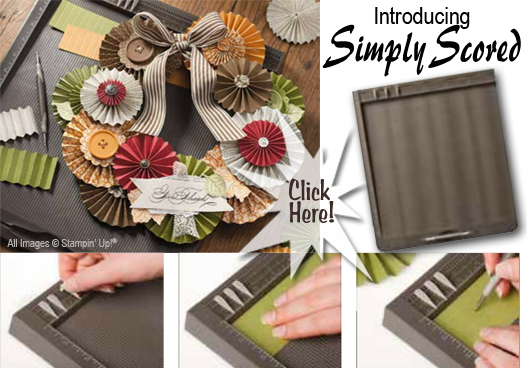 Introducing Stampin' Up!'s original scoring tool-designed exclusively by and for Stampin' Up! With etched grooves every 3.2 mm (1/8"), and the ability to score card stock up to 12" x 12", the Simply Scored scoring tool helps you create perfectly measured score marks. It's great for creating multiple projects or projects with a variety of score marks!
Features of the Simply Scored Scoring Tool
Comes with a high-quality stylus instead of a plastic bone folder.

Stylus is ergonomically shaped and features a comfort grip.
The high-quality metal tips on each end of the stylus-they come in two sizes-glide smoothly over your paper.

Features a unique set of place markers that let you mark your score lines when creating multiple projects with the same score lines.Includes three place markers.

Additional place markers can be purchased for flawless scoring.

Includes a hidden storage compartment in the back of the base to hold your scoring tools.
Accommodates card stock up to 12" x 12" (30.5 x 30.5 cm).
Can order a Metric Scoring Plate for metric measurements.
Product Details
Item 122334;
Simply Scored includes

1 scoring board
1 stylus
3 place markers

Dimensions of scoring board: 38.4 x 33.7 x 2.5 cm
Additional products available:
Simply Scored Stylus

Item 125624;
Dimensions: 5-7/16" (13,8 cm)

Simply Scored Place Markers (pack of 6)

Item 125625;
Dimensions: 1/4" x 1" (6,4 x 25,4 mm)

Simply Scored Metric Scoring Plate

Item 127531;
Slides securely over your Simply Scored
Includes five specialty tracks to help you score standard metric card sizes
©Stampin' Up!® from Stampin' Up!® website
There are some optional extras including the Diagonal Scoring Plate - a must for making your own, made to measure envelopes.
new Simply Scored Diagonal Plate
Create envelopes of various sizes or create unique
score designs. Sits securely on scoring tool. 32 x 32 cm.
Instructions included for 3 envelope designs. £10.95 125586
You have seen the product; now watch the video!
Simply Scored Metric Scoring Plate
Score using metric measurements! Slides securely
on scoring tool.
•
Left side of plate: grooves every 1 cm. Five
specialty grooves to score standard metric card
sizes.
•
Right side of plate: grooves every 5 mm. Metric
ruler at top of plate with markings down to 1 cm.
£10.95 127531